VIOLIN CONCERT IN THE GENERALATE
A violin concert was held on May 14, 2023, Sunday evening at the Generalate. Sr. Veronica Yong from SPC Seoul played the violin. Her accompanist was Sr. Helena Yam, a missionary in Rome, from SPC Daegu.
From May 8 to June 1, 2023, spiritual renewal is being held in Rome and in France. There are 43 sisters from 17 Provinces, Districts, and Regions respectively participating in this spiritual nourishment.
U.S. SECRETARY OF STATE ANTONY BLINKEN VISITS SPC HANOI
U.S. Secretary of State Antony Blinken is in Hanoi on his first visit to Vietnam since becoming the top U.S. diplomat. On Saturday he met Vietnamese Prime Minister Pham Minh Chinh as they discussed strengthening ties between the two nations.
He also came to visit our sisters in Hanoi. He said, "I met with the Sisters at St. Paul de Chartres Convent, an organization serving the Vietnamese community, where I also visited their kindergarten and the kitchen where they prepare meals for those in need. Their work is inspiring."
Sr. Helena Nam, Daegu Province, Graduated from Musica Sacra
Sr. Helena Nam, the melody composer of our 325th Anniversary theme song, "Abounding Grace" recently graduated from the Pontificio Istituto di Musica Sacra here in Rome with the highest honors, Summa Cum Laude.  One of the highlights of the mini concert recital was her composition of Ave Regina Caelorum, a fusion of the Gregorian and modern arrangement.  Congratulations dear Sr. Helena.
  Sr. Marietta Kattiya Chongsomchai                          Sr. Teresa Nguyen Thi Mai                              Sr. Dorine Anick Velo Onjaniaina                     Sr. Lucie Marie Claire Razafinara                                  Thailand                                                               Wyoming, USA                                                           Madagascar                                                          Madagascar            
After 9 years, Sr. Sophia Kim from Seoul Province ends her mission as the Local Superior in the Generalate. She will be replaced by Sr. Marie Paulette from Madagascar Province.
Thank you very much dear Sr. Sophia for your humble, thoughtful and quiet service in the Casa.
May God bless you with good health and bountiful graces. We will miss you…
Canonical Visit of Mother General
Golden and Silver Jubilee Celebration
Golden Jubilarians:
Mother Maria Goretti LEE
Sr Nati RUELOS (Philippines) Missionary in Rome
Sr Maria Luisa ESCANLAR (Philippines) Missionary in Congo

Silver Jubilarians:
Sr. Rosa Young Suk YUN (Seoul)
Sr. Marie-Thérèse RASOLONANTENAINA (Madagascar)


On the Feast of St. Pio, the Eucharistic celebration for our jubilarians in Rome was simply and solemnly celebrated.
The main celebrant was Archbishop Jan Romeo Pawłowski, a Polish archbishop and diplomat of the Holy See, currently serving as an official of the Secretariat of State; Mons. Miguel Ángel Olaverri Arroniz, SDB, first Metropolitan Archbishop of Pointe-Noire, Congo; Msgr. Karel Kasteel, a Dutch prelate in the Vatican and former secretary of the Pontifical Council Cor Unum and Dean of the Apostolic Chamber; Very Rev. Charles Phukuta Khonde, CICM Superior General and some CICM priests who come to say mass in the generalate everyday and Monsignor Mario  who is also working in Vatican, who brought the special papal blessing from Pope Francis.
Our Sisters from 16 countries are here in Rome for their spiritual renewal.  This renewal program started last September 7  and will end on October 17, 2022.  After their spiritual nourishment here in Rome they will proceed to France to visit our cradle.
Our Vietnamese sisters in the Generalate are currently making their annual 8 days retreat. Their spiritual guide is Father Clement Phạm Đăng Mẫn, abbot of the order of the Vietnamese Cistercians in the Monastère de Notre Dame de Fatima (Monastery of Our Lady of Fatima) in Switzerland.
New Missionaries for Ethiopia and Congo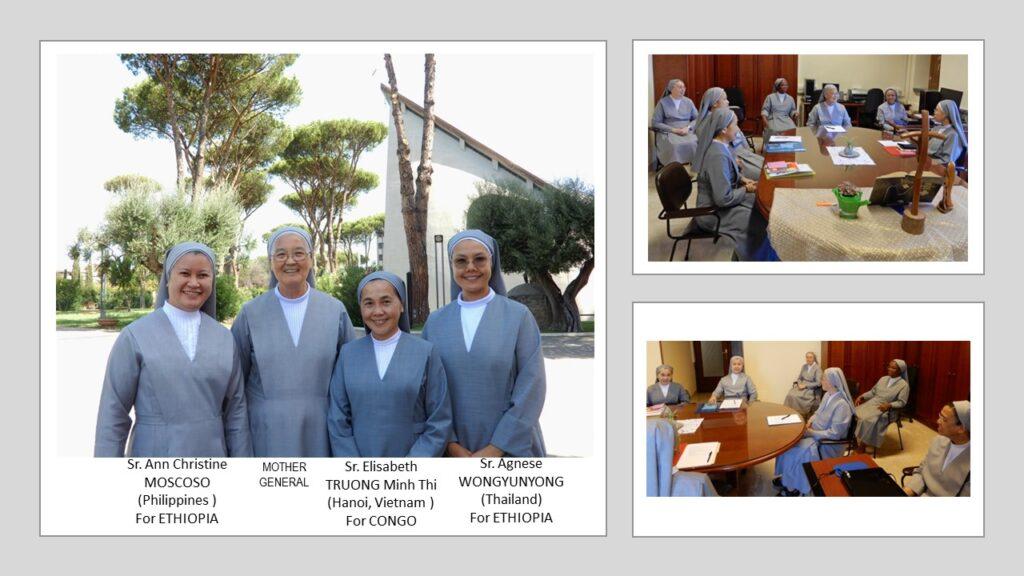 The new missionaries for Ethiopia and Congo will have their intensive missionary formation program from August 16 to 29, 2022                                    in the Generalate.
"New Wine and New Wineskins" in Religious Formation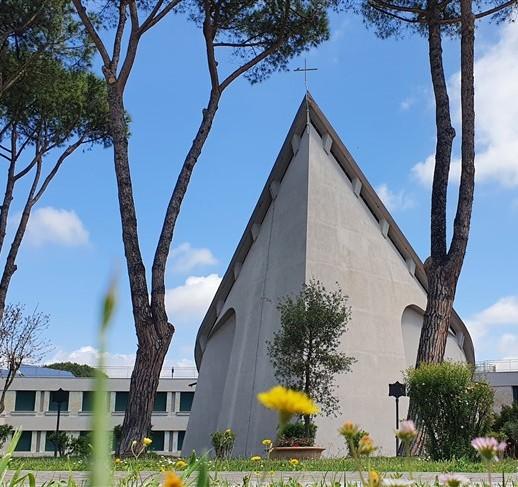 The Sisters of St. Paul of Chartres Generalate is holding an international assembly on Formation for Formators from July 5 to August 5, 2022 here in Rome and in France.
The Formation for Formators Assembly is participated in by 28 formators from 14 countries  of 18 Provinces, Region and District.                                                                                                                                  
                                                                                     July 27, 2022


Dear Sisters,


I am back from my trip to Mongolia and I hasten to write to you after I have received information that a strong earthquake which was originally referred to as a 7.1 magnitude earthquake made its mark in the northern provinces of the Philippines. Its tremors were felt in Manila, the metropolitan center of the country which is actually 400 kilometers from the epicenter. There were aftershocks and recorded landslides and collapse of structures.
I know that you will include our Sisters and the people most affected by this recent natural calamity in your prayers.  The provinces most affected are Abra, Ilocos Sur where we have schools and in Benguet, where we have a hospital.
God bless us for our resolute care and concern for one another.


Thank you.
Sr Maria Goretti Lee
As part of the celebration of the 30th Anniversary foundation of the St Paul de Chartres Residential Aged Care, SPC Australia had a multicultural day. The Residents together with their respective families were invited to this celebration. The sisters set up stalls where they served cultural foods, mounted artworks for sales, and presented some programs of dances and songs from the staff and Sisters.
All visitors had mandatory covid testing before they were allowed to enter the facility (this is also part of the covid requirements for entry to any aged care centers in Australia). God bless SPC Australia.
I. FORMATION OF SUPERIORS
The SPC Philippine Province has recognized the vital role of local superiors in the life of the congregation, thus the holding of the annual Formation of Superiors Assembly  and the In-Service Training for new superiors to prepare them for their important and challenging leadership mission.
The Formation of Superiors Assembly was conducted in the virtual mode.  A total of 62 Superiors attended the event—58 superiors based in the Philippines and four in the foreign missions under the Philippine Province. The gift of technology made this gathering of superiors possible. Speakers from different parts of the country as well as one from the United States were able to share their knowledge and expertise. The first two days were devoted to the conferences  of Msgr. Noel Deslate, a clinical psychologist and therapist, live from Roxas City, Capiz.  He shared on the topics: The Person of the Superior, Developing Skills and Competencies (especially on conducting dialogue), Handling Difficult Personalities, Proper Communication and Counseling, and The Community as a Mini-Church in Synodality.  On the third day, all the Sisters of the entire Philippine Province attended the half-day conference  on Liturgy given by Fr. Genaro Diwa, the Executive Secretary of the Episcopal Commission on Liturgy. In the afternoon, live from USA, Fr. Nicanor Austriaco, OP, discussed Holistic Care for a Healthy Lifestyle. He answered many questions of the Sisters regarding the coronavirus, vaccination, booster shots, health protocols, protective measures, etc.
On the fourth and last day, Fr. Erwin Cabilan, SDB, sharing from Cebu, talked on the role of the superiors as spiritual animators, with his topic "Spiritual Leadership: Superior as Teacher & Prophet."  The "Session with the Provincial Superior"  was like a "State of the Province Address."  Sr. Lilia shared information and news about the Congregation and Province. She gave reminders and recommendations on the living out of our life of consecration, especially regarding the practice of the vows.
In her Closing Remarks, Sr. Lilia  thanked the superiors  for generously and humbly accepting the challenging mission of being the spiritual leaders and animators of their local community, which, no matter how small, can be very difficult  and demanding, sometimes discouraging  and disheartening.  She said, however, that  the blessings and graces of being spiritual leaders and animators far outweigh the pains, trials, and crosses that are part and parcel of living in a community of persons of diverse characters, personalities and backgrounds, persons with varying  needs, demands, and priorities. Sr. Lilia assured the superiors of the Council's prayers, support, and guidance.     
  II. In-service Training for New Superiors
 The 12 newly appointed superiors underwent a two-day in-service training in the Provincial House on June 16-17, 2022.  This was the first onsite assembly  since the lockdown in 2020. Sr. Lilia and the Ministry Assistants  took turns in discussing the contents of the SPC Superiors' Manual. The Provincial Secretary and the Provincial Bursar discussed and walked through the different documents and reports that are needed to be submitted to their respective offices.
The In-Service training ended with a stimulating  open forum.  The honest, open, and truthful sharing of concerns, questions, experiences, and reminders was both disturbing and challenging.  In her Closing Remarks, Sr. Lilia cautioned  the superiors about allowing the spirit of materialism, secularism and consumerism influence them and the sisters in their community. She told them not to delete from their vocabulary words like self-discipline, sacrifice, mortification, asceticism, simplicity of life, austerity, frugality, and the like. She bemoaned the fact that our life has just been too comfortable. She said:
"May this disturbing thought and challenge serve as a springboard for all of us to pray harder, discern, and reflect on our lifestyle."  
Feast of Corpus Christi, Solemnity of the Most Holy Body and Blood of Christ.
Today we celebrate and honor the real presence of the body of Jesus Christ in the Holy Eucharist in remembrance of the Last Supper of the Lord on the day before His crucifixion.
The Gospel today, tells us about the multiplication of bread, the multiplication of love, and the multiplication of charity that we can spread around us.
May we always sow seeds of love, joy, peace, patience, kindness, goodness, faithfulness, gentleness, and self-control – the fruits of the Holy Spirit (Galatians 5:22-23). God bless us!
SPC CONGO MARIAN ACTIVITY 🇨🇬
Our sisters in Congo mission started a Legion of Mary Association during the month of May. Our sisters hope to bring the sanctification of its members through prayer, the sacraments and devotion to Mary and the Trinity, and through the apostolate of the Legion, others may be encouraged to do acts of voluntary charity.
Ethiopia Mission Turn-over
Turn over of DMI and MMI Administration of the hospital in Addis Ababa, Ethiopia to the Sisters of St. Paul of Chartres.
Workshop Program for Professional Health Care Givers in Chartres
Recently, the professional health care givers in Chartres, France held a workshop program, "Take care of carers."
Health professionals from the region, Eure-et-Loir were invited to participate in this prevention and well-being workshop. Our sisters in the health care ministry in Chartres who are actively doing their share during the height of the pandemic joined this workshop represented by Sr.  Marie Joseph Thoại Ngân.
ROCCA DI NETO YOUTHS VISIT GENERALATE
The young boys and girls of Rocca di Neto in Italy came to visit the Generalate after they had their audience with the Holy Father, Pope Francis along with the young people of Italy.
They were accompanied by their parish priest, Don Oreste Mangiacapra, Deacon Valerio, and Sr. Wendelyn.
Don Oreste remarked that their visit in the Generalate was a moment just like their visit in the Vatican which left an indelible mark on the hearts of young people. He said, "together with the sisters, we lived moments of joy, celebration and profound communion, After thanking Mother General for her hospitality, after a  moment of prayer in the chapel, we sang songs of praise and glory to God; thanking him for the wonders he gives us everyday.  We conclude by saying that this journey is #unbelsgenodisperanza for the church and for humanity. #seguimi "- follow me, the theme of their meeting with the Holy Father)
Monsignor Mario Codamo from the Vatican Secretary of State (working with Cardinal Parolin) also came to welcome them.
Sr. Madeleine NGUYEN Thi Thu Thao | Sr. Francine-Marie VOAHANGINIRINA | Sr. Thérèse Jean Vianney  HUYNH                                                                                                                                                                     Thi My Nuong                                                  (MYTHO)                                              (MADAGASCAR)                                                 (MYTHO)
Sr. Marie Albert TRAN Thi Tham     Sr. Anne NGUYEN                                                                              Thi Lo                                     (HANOI)                                   (HANOI)            
Our three Sisters together with two Polish Sisters (with mothers and their children in the Center for Mothers – 40 people in a bus) who left the city to seek refuge in another village near Poland have arrived safely and were welcomed by the priests in the seminary.  They continue to do their missionary work in helping the refugees in any way they can in the kitchen, in taking care of the children and the sick as well as in the Liturgy.
Our sisters who chose to stay behind are quite safe with the lay people.
Let us continue to pray for their safety and pray unceasingly for PEACE and the end of the war in Ukraine.
Meet the new Postulants in Congo.
SPC ETHIOPIA

Against all odds such as the pandemic and the civil war in Ethiopia, finally, our sisters arrived in Ethiopia to start their mission in Addis Ababa hospital. Mother General brought the three SPC missionary nurses to Ethiopia. They were welcomed by the Cardinal and bishop as well as the personnel and parishioners of Addis Ababa.
FLOODS IN INDONESIA AND THE PHILIPPINES
CARDINAL LUIS ANTONIO TAGLE
Celebrated Mass at the SPC Generalate Chapel
His Eminence, Cardinal Luis Antonio Tagle, Prefect of the Congregation for the Evangelization of Peoples, recently celebrated Mass at the SPC Generalate Chapel for the sisters who are  preparing for their respective missions.
He delivered a very meaningful mission Ad Gentes homily.
MARATHON OF PRAYER FOR THE END OF THE PANDEMIC
1-31, October 2021
"Rejoice always, pray without ceasing, give thanks in all circumstances; for this is the will of God in Christ Jesus for you." 1 Thes 5:16-18
Following the initiative of the Holy Father last May 2021, and in celebration of our 325 years of foundation, let us be united in the recitation of the Holy Rosary together with all SPC Sisters, Friends of Saint Paul and lay partners around the world, for the end of the pandemic, and in a special way, to pray fervently for those most closely affected by it.
During each day of October, the month of the Holy Rosary, every SPC PDR/ Country take turns in leading the prayer, in the language and manner used locally. United in supplication to our Heavenly Father, through the intercession of the Blessed Virgin Mary, we pray for the resumption of social life, work and the many human activities that were suspended during the pandemic.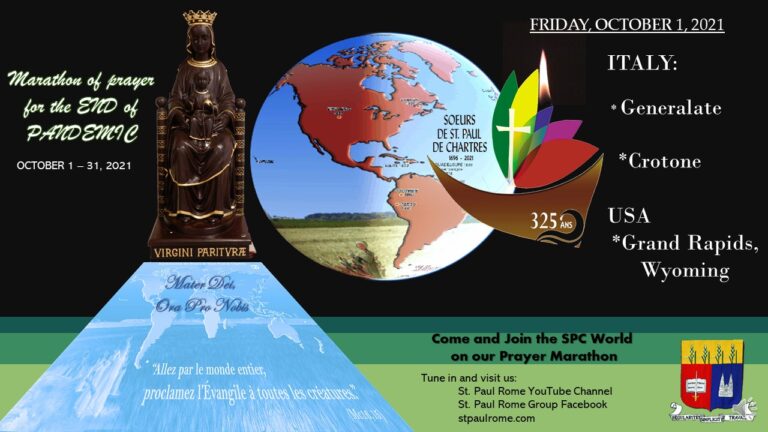 Our sisters in Hanoi Province during this pandemic continue to expand their mission of charity by opening a free care center for terminally ill patients, providing and delivering free meals to people in quarantined and blocked areas without discrimination.
The Covid 19 pandemic in Vietnam has left a lot of loss and pain… Along with solidarity in prayer, the Sisters collaborated with parishioners to provide meals for free. The meals were delivered to people in quarantined and blocked areas. The sisters also share food for those living around without discrimination of religion, knowing that they are doing it for Christ himself.
To expand the mission of charity, the Province has opened a free care center for terminally ill patients who are lonely (palliative care). This is a gift of God and a flourish for the Province in gratitude for 325 years.
MEET OUR NEW MISSIONARIES

to
left-right: Sr. Wilfrid (Philippines), former missionary to Indonesia; Sr. Marie Reine (Thailand), former missionary to Australia; MOTHER GENERAL; Sr. Francesca (Philippines), former missionary to Cameroun
left-right: Sr. Francesca (Danang,Vietnam), former missionary to France; MOTHER GENERAL;  Sr. Wendelyn (Philippines); Sr. Gloria (Saigon, Vietnam)
left-right: Sr. Clara (Seoul); MOTHER GENERAL; Sr. Nativité (Saigon, Vietnam)
REQUEST FOR PRAYERS FOR OUR PEOPLE IN HAITI
We ask everyone to keep uppermost in your prayers the peoples of Haiti as well as our sisters. May they remain courageous to keep on to the torch in spite of the disheartening situation they find themselves in.  May they persist to be living witnesses of peace, pardon and reconciliation in a world that remains blistered and marked with suffering.
MOTHER GENERAL'S VISIT TO ETHIOPIA
Mother Maria Goretti Lee, together with Sr. Emily Louise del Castillo went to Ethiopia for an ocular visit.
The missionaries going to Ethiopia: Sr. Francesca from the Philippines, former missionary to Cameroun; Sr. Wilfrid from Philippines former missionary to Indonesia and Sr. Marie Reine from Thailand, former missionary to Australia. They are currently learning the Amharic language.
Volunteers to take care of Covid patients
Along with some other priests, religious and Catholic laity, twenty-five (25) of our sisters in Saigon, Vietnam volunteer to provide pastoral, spiritual and humanitarian services to patients in high-risk areas such as in Covid hospitals.
Let us pray for their protection and safety. God bless us always.
SPC France: Habitat Project
Young volunteers of the solidarity "JEUNES in Mouv", went for their fifth mission in the CAIROS valley, in the ROYA. The group is made up of 11 people from different neighborhoods: Romain, Kévin, Jully, Mohammad, Christ, Océane, Valentin, Melinda, Maud, Colline and Joannic.  They build, repair and deliver materials to build the houses for people to places which are not accessible to transportations.
This habitat project is under the supervision of our sisters in France.
SPC East Timor Flood Mission
Recently, East Timor and Indonesia
suffered from floods and landslides which were brought about by a cyclone and continuous rainfall. 
Our Sisters continued to do their mission during the devastating floods that beset the country amidst the pandemic.
 
Let us continue to pray for them and the victims of the calamity.
SPC Indonesia Flood Mission
Our sisters in Banjarmasin, Indonesia had their flood mission to our Christian and Moslem brothers and sisters.
Banjarmasin is a swampy area. Our sisters brought medicines and conducted free medical services under the tent.  Riding in small motorized boats they also distributed food packs to the houses of the flooded areas.