Ethiopia Mission Turn-over
Turn over of DMI and MMI Administration of the hospital in Addis Ababa, Ethiopia to the Sisters of St. Paul of Chartres.
Workshop Program for Professional Health Care Givers in Chartres
Recently, the professional health care givers in Chartres, France held a workshop program, "Take care of carers."
Health professionals from the region, Eure-et-Loir were invited to participate in this prevention and well-being workshop. Our sisters in the health care ministry in Chartres who are actively doing their share during the height of the pandemic joined this workshop represented by Sr.  Marie Joseph Thoại Ngân.
ROCCA DI NETO YOUTHS VISIT GENERALATE
The young boys and girls of Rocca di Neto in Italy came to visit the Generalate after they had their audience with the Holy Father, Pope Francis along with the young people of Italy.
They were accompanied by their parish priest, Don Oreste Mangiacapra, Deacon Valerio, and Sr. Wendelyn.
Don Oreste remarked that their visit in the Generalate was a moment just like their visit in the Vatican which left an indelible mark on the hearts of young people. He said, "together with the sisters, we lived moments of joy, celebration and profound communion, After thanking Mother General for her hospitality, after a  moment of prayer in the chapel, we sang songs of praise and glory to God; thanking him for the wonders he gives us everyday.  We conclude by saying that this journey is #unbelsgenodisperanza for the church and for humanity. #seguimi "- follow me, the theme of their meeting with the Holy Father)
Monsignor Mario Codamo from the Vatican Secretary of State (working with Cardinal Parolin) also came to welcome them.
Sr. Madeleine NGUYEN Thi Thu Thao | Sr. Francine-Marie VOAHANGINIRINA | Sr. Thérèse Jean Vianney  HUYNH                                                                                                                                                                     Thi My Nuong                                                  (MYTHO)                                              (MADAGASCAR)                                                 (MYTHO)
Sr. Marie Albert TRAN Thi Tham     Sr. Anne NGUYEN                                                                              Thi Lo                                     (HANOI)                                   (HANOI)            
Our three Sisters together with two Polish Sisters (with mothers and their children in the Center for Mothers – 40 people in a bus) who left the city to seek refuge in another village near Poland have arrived safely and were welcomed by the priests in the seminary.  They continue to do their missionary work in helping the refugees in any way they can in the kitchen, in taking care of the children and the sick as well as in the Liturgy.
Our sisters who chose to stay behind are quite safe with the lay people.
Let us continue to pray for their safety and pray unceasingly for PEACE and the end of the war in Ukraine.
Meet the new Postulants in Congo.
SPC ETHIOPIA

Against all odds such as the pandemic and the civil war in Ethiopia, finally, our sisters arrived in Ethiopia to start their mission in Addis Ababa hospital. Mother General brought the three SPC missionary nurses to Ethiopia. They were welcomed by the Cardinal and bishop as well as the personnel and parishioners of Addis Ababa.
FLOODS IN INDONESIA AND THE PHILIPPINES
CARDINAL LUIS ANTONIO TAGLE
Celebrated Mass at the SPC Generalate Chapel
His Eminence, Cardinal Luis Antonio Tagle, Prefect of the Congregation for the Evangelization of Peoples, recently celebrated Mass at the SPC Generalate Chapel for the sisters who are  preparing for their respective missions.
He delivered a very meaningful mission Ad Gentes homily.
MARATHON OF PRAYER FOR THE END OF THE PANDEMIC
1-31, October 2021
"Rejoice always, pray without ceasing, give thanks in all circumstances; for this is the will of God in Christ Jesus for you." 1 Thes 5:16-18
Following the initiative of the Holy Father last May 2021, and in celebration of our 325 years of foundation, let us be united in the recitation of the Holy Rosary together with all SPC Sisters, Friends of Saint Paul and lay partners around the world, for the end of the pandemic, and in a special way, to pray fervently for those most closely affected by it.
During each day of October, the month of the Holy Rosary, every SPC PDR/ Country take turns in leading the prayer, in the language and manner used locally. United in supplication to our Heavenly Father, through the intercession of the Blessed Virgin Mary, we pray for the resumption of social life, work and the many human activities that were suspended during the pandemic.
Our sisters in Hanoi Province during this pandemic continue to expand their mission of charity by opening a free care center for terminally ill patients, providing and delivering free meals to people in quarantined and blocked areas without discrimination.
The Covid 19 pandemic in Vietnam has left a lot of loss and pain… Along with solidarity in prayer, the Sisters collaborated with parishioners to provide meals for free. The meals were delivered to people in quarantined and blocked areas. The sisters also share food for those living around without discrimination of religion, knowing that they are doing it for Christ himself.
To expand the mission of charity, the Province has opened a free care center for terminally ill patients who are lonely (palliative care). This is a gift of God and a flourish for the Province in gratitude for 325 years.
MEET OUR NEW MISSIONARIES

to
left-right: Sr. Wilfrid (Philippines), former missionary to Indonesia; Sr. Marie Reine (Thailand), former missionary to Australia; MOTHER GENERAL; Sr. Francesca (Philippines), former missionary to Cameroun
left-right: Sr. Francesca (Danang,Vietnam), former missionary to France; MOTHER GENERAL;  Sr. Wendelyn (Philippines); Sr. Gloria (Saigon, Vietnam)
left-right: Sr. Clara (Seoul); MOTHER GENERAL; Sr. Nativité (Saigon, Vietnam)
REQUEST FOR PRAYERS FOR OUR PEOPLE IN HAITI
We ask everyone to keep uppermost in your prayers the peoples of Haiti as well as our sisters. May they remain courageous to keep on to the torch in spite of the disheartening situation they find themselves in.  May they persist to be living witnesses of peace, pardon and reconciliation in a world that remains blistered and marked with suffering.
MOTHER GENERAL'S VISIT TO ETHIOPIA
Mother Maria Goretti Lee, together with Sr. Emily Louise del Castillo went to Ethiopia for an ocular visit.
The missionaries going to Ethiopia: Sr. Francesca from the Philippines, former missionary to Cameroun; Sr. Wilfrid from Philippines former missionary to Indonesia and Sr. Marie Reine from Thailand, former missionary to Australia. They are currently learning the Amharic language.
Volunteers to take care of Covid patients
Along with some other priests, religious and Catholic laity, twenty-five (25) of our sisters in Saigon, Vietnam volunteer to provide pastoral, spiritual and humanitarian services to patients in high-risk areas such as in Covid hospitals.
Let us pray for their protection and safety. God bless us always.
SPC France: Habitat Project
Young volunteers of the solidarity "JEUNES in Mouv", went for their fifth mission in the CAIROS valley, in the ROYA. The group is made up of 11 people from different neighborhoods: Romain, Kévin, Jully, Mohammad, Christ, Océane, Valentin, Melinda, Maud, Colline and Joannic.  They build, repair and deliver materials to build the houses for people to places which are not accessible to transportations.
This habitat project is under the supervision of our sisters in France.
SPC East Timor Flood Mission
Recently, East Timor and Indonesia
suffered from floods and landslides which were brought about by a cyclone and continuous rainfall. 
Our Sisters continued to do their mission during the devastating floods that beset the country amidst the pandemic.
 
Let us continue to pray for them and the victims of the calamity.
SPC Indonesia Flood Mission
Our sisters in Banjarmasin, Indonesia had their flood mission to our Christian and Moslem brothers and sisters.
Banjarmasin is a swampy area. Our sisters brought medicines and conducted free medical services under the tent.  Riding in small motorized boats they also distributed food packs to the houses of the flooded areas. 
Feast of the Presentation
Our Lady of Chartres Convent Factory Line Assembly of Face Shields

Our Lady of Chartres Convent, Philippine Province
Makes Factory Line Assembly of Face Shields
Click Here
Rue des Lisses Community, Chartres, France
made dandelion syrup/tea and protective washable masks and caps
Click Here
SPC Switzerland

"Looking to the future, hoping, singing Easter
in the middle of the night..."
Click Here
SPC USA District
Life and Mission
Despite the raging spread of the pandemic COVID-19 in USA, our sisters in the USA District kept their ministry alive doing pastoral and spiritual ministry online and offline and as a volunteer frontliner at St. Francis Connection Center, a Catholic Extension-supported social outreach center in Michigan's Upper Peninsula, to help and distribute healthy meals to people in need.
Vietnam/Philippines: Our Sisters' Operation Assistance on Super Typhoon Victims
Some of our communities in Central Vietnam and the Northern part of the Philippines were badly hit by the super typhoon, but our sisters were still able to manage to help and distribute relief packs to the people in their respective areas.
The sisters in other communities who were not affected by the typhoon and flash floods were united to send goods and supplies to our communities that were badly hit which were then shared with the victims of the calamity.
Crotone, Italy: Pandemic Crisis Life and Mission
Our sisters in Crotone, our new mission community in the Southern part of Italy continue to fulfill their life and mission despite the Covid crisis by visiting the old and young people in their homes to cheer them up, helping the parish to pack foods and more.
France: Assembly with Young Professed
Sister Monique Françoise, Provincial Superior of France had an assembly with the young professed sisters just before the lockdown.
Mission Send-Off of Sr. Marie Ky
During Vespers, a simple mission send-off was held at the Generalate Chapel on October 8, 2020 for Sr. Marie Ky, a missionary in Rome but re-missioned to France.
Prior to this, on the last week of September another mission-send off for Sr. Marthe Ny and Sr. Justine was also held.  They were assigned to France also.
Commemoration of the Arrival
of the First SPC Missionaries in Indonesia

The Sisters of St. Paul of Chartres in Indonesia held a Thanksgiving Eucharistic Celebration to commemorate the arrival of the first missionaries in Indonesia. 
Indonesia despite a Muslim country is also blessed of Christian vocation in our congregation.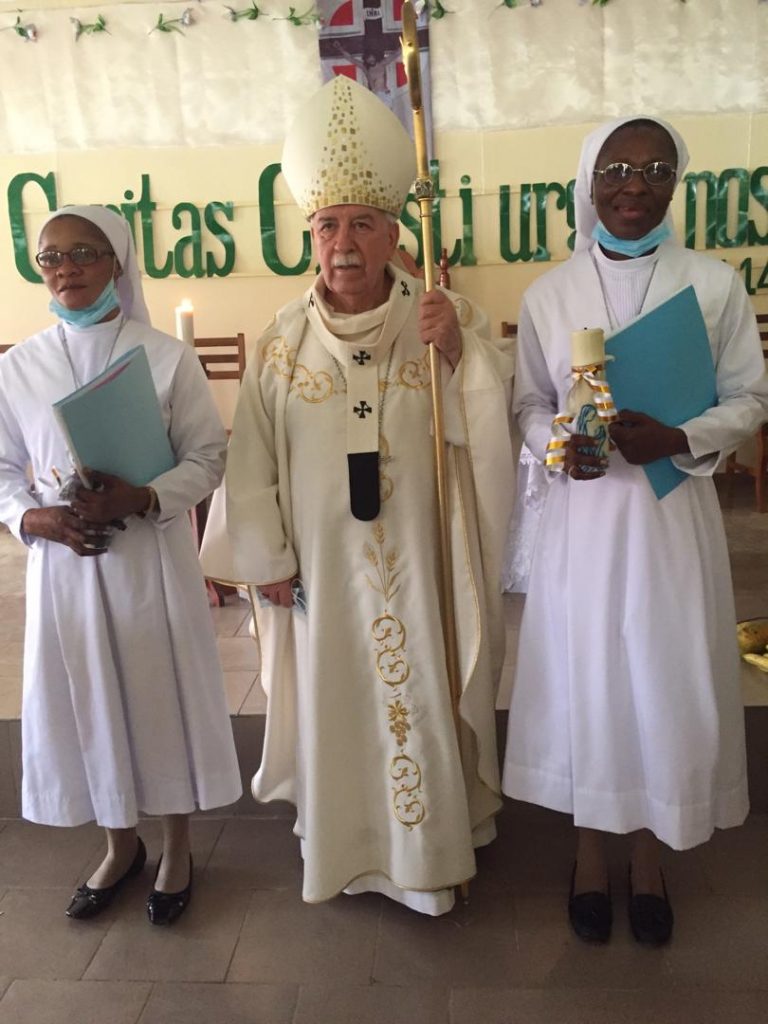 God's Outpouring Blessing in SPC Congo
Five years ago, the Sisters of St. Paul of Chartres (SPC) started its mission in Congo Brazzaville, the Republic of Congo. Two communities were established: in Mbota which is a pastoral center and in Mvouti where a dispensary, a nursery school, and a formation house were set up by the missionaries from the Philippines, Thailand, Madagascar, and Haiti and later from another sister in Vietnam.
After 5 years of toil and challenges, they held their first profession ceremony for their two young sisters.
SPC Congo is under the auspices of the Generalate.
Sr. Martha PHAM and Sr. Cecile LIEN Completed Their Studies in Angelicum University
Sr. Martha PHAM and Sr. Cecile LIEN (Trần Thị Bích Liên) both defended their Masteral theses successfully at the Angelicum University.  Sr. Martha defended her thesis online:   "The Ascent Towards Happiness: Man's Happiness and the Role of Acquired Habits according to St. Thomas Aquinas while Sr. Cecile defended her thesis offline on "Friendship of Man with God: A Thomistic Study on the Virtue of Charity" on Spirituality. 
Sr. Martha who is from Danang Province, Vietnam is a missionary in Australia. Sister Cecile comes from Mytho Province, Vietnam.
The Christmas in August,
The Exhibition to Save the Earth
by Sr. Jo Kyu-hee (Elizabeth)
In the world where everything seems to have stopped due to COVID-19, a global pandemic that swept the world, Sr. Elizabeth's (Seoul Province) hands had moved busily to prepare an exhibition to give peace and comfort to those who are depressed by the limited activities and a bad economy caused by COVID-19.
Closure of the Torpignattara Community in Rome
After 90 years of presence and service in Torpignattara. The Paschal dimension of our life and mission is an inevitable reality.
The property has been entrusted to the Diocese of Rome.
A thanksgiving mass was held at Sta Maria Medtriace Parish on September 19, 2020.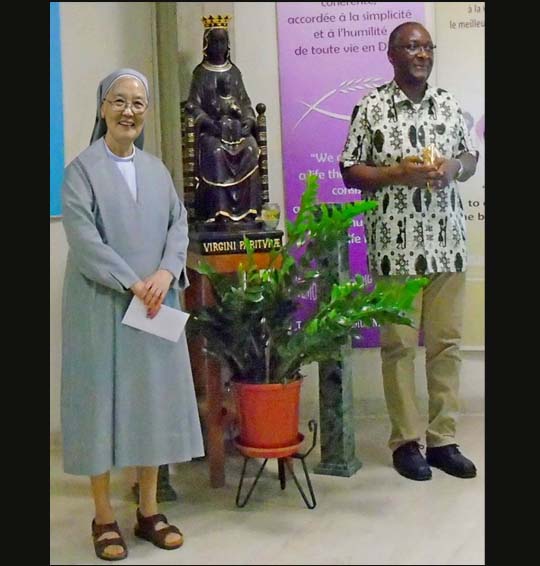 SPC Generalate Chaplain was appointed Bishop
by Pope Francis
On Thursday, July 23, Pope Francis appointed Fr. Félicien Ntambue Kasembe, CICM to shepherd the people of God inKabinda Diocese, Democratic Republic of Congo which has been vacant since October 2018.
Bishop Félicien has been serving as one of the General Councilors of the Scheutists since 2017. He is one of the CICM priests who celebrates mass for the sisters in the Generalate.
PéléVTT Marian Pilgrimage in France
PéléVTT is a Marian Pilgrimage for the intergenerational evangelization of young people from ages 11-18 years old. They visit Marian shrines or cathedrals using the motorbikes.
Sr. Marie Bénédicte SPC, is a young missionary sister from Danang, Vietnam. Missioned in France, she participates in the yearly Marian pilgrimage team by motorbike known as PéléVTT.
Sr Anne Christina, a young sister in temporary vow and 3 aspirants: Anne, Marthe and Catherine join her for this year's mountain biking pilgrimage.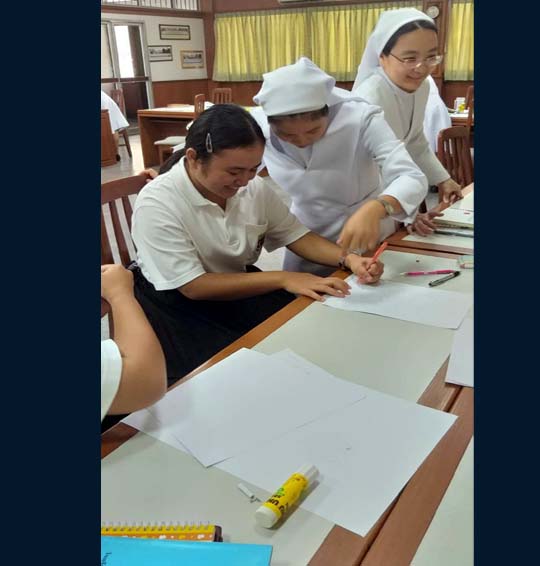 SPC Thailand, Alive in Faith
Thailand, a Buddhist country with only 0.46% Catholics all over the country, calls for a great feat to promote vocation. And even amidst the pandemic crisis, the SPC Formation Program in Thailand for young sisters was fully alive.
Seminars and activities for bible studies to enrich and cultivate their faith and vocation were shared among the young sisters led by Sr. Theresa Punnachet
Jubilee Celebration at the Generalate
On the Feast of St. Peter and St. Paul, Sister Marie DANG Thi Le Thuy and Sr. Marthe Rose NGUYEN Thi Hong Hoa had a simple silver and golden jubilee celebration respectively at the chapel in the Generalate.
Sr. Marie Thuy is a missionary from Saigon assigned in our new community in Crotone while Sr. Marthe Rose from Danang is assigned at Torpignatarra.
SPC Congo: Reception Ceremony
On the evening of June 29, Feast of the Sts. Peter and Paul, SPC Congo held a Reception Ceremony of the 2 new novices as well as the reception of the crucifix of the Postulant.
At present there are 2 second year novices, 2 new first year novices and one postulant.
SPC Congo accepts aspirants only every 2 years so as to be able to give an intensive focused formation for the group of novices and postulants in formation.
Archdiocese of Daegu, Koinonia: Pope Francis' "Program on The Life of Faith"
The office for the young people of the Archdiocese of Daegu, organized a faith program activity for the children to make their life meaningful even if they just stay in their respective homes.
This is the "Program of the Life of Faith" inspired by Pope Francis during his message to the young people for the XXXV World Youth Day 2020 which aims to foster their daily faith.
Mother Goretti's Letter
An invitation to a worldwide solidarity and prayer
Sr. Jo Kyu-hee, Silver Prize Awardee
Sr. Jo Kyu-hee from Seoul Province won the silver prize award during the 40th International Contemporary Art Exhibition.
SPC Formators from Australia and East Timor
Joined the Formation Program organized by UISG.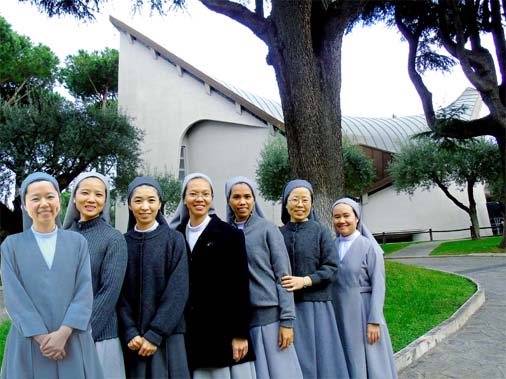 New Students in Rome
The new students who were sent by their Provincial Superiors to study in Rome this year are from Vietnam: Danang and Saigon; and from South Korea: Daegu and Seoul.
They are Sr. Angela Yee (Daegu), Sr. Elizabeth Yang and Sr. Martina Kim (Seoul), Sr. Therese Cuong (Saigon), Sr. Marie Tran (Saigon), Sr. Lucie (Saigon) and Sr. Therese Phuong (Saigon).
Sr. Marie Uyen Finished Her Studies In Angelicum
Sr. Marie Thi Minh Uyen NGUYEN from Saigon Province (Vietnam) successfully defended her Masteral Thesis in Biblical Theology on her course, "The Paradox of the Cross in Pauline Letter" in Angelicum University.
Sr. Jean Cattin Shows a Simple Spleen Exercise
This very short video of Sr Jeanne Cattin from the Peru-Colombia district shows us a simple exercise in the left hand for at least 10 stimulations per day. This simple exercise or reflexology stimulates the spleen and prevents the body from absorbing germs, infections or any virus.
Renewal of Vows of Juniors in Rome
Sister Marie Huan of Hanoi, Vietnam and Sister Esperança of East Timor renewed their vows on February 2, 2020 at the Generalate Chapel. Very Rev. Charles Phukuta Khonde, CICM was the presider of the Holy Eucharistic celebration.
A 2nd SPC School was opened at UAE
On September 16, 2015, St. Mary's Catholic High School, in Muhaisnah, Dubai was inaugurated. A Catholic school dedicated to the formation of the whole person - education in faith, academic excellence in a caring environment, and community service in charity. This is the first school on the frontier run by our sisters of the Philippine Province. On January 28, 2020, a second school, another branch of St. Mary's High School was opened at Ras Al Khaimah (one of the seven emirates of the UAE).
Sr. Maria Anunciata Sta. Ana, Recipient of National Artist Award
Sister Maria Anunciata Sta. Ana, Dean of the College of Music and the Performing Arts of St. Paul University in Manila, was awarded Patron of the Arts 2019 on December 12, 2019 by Cardinal Chito Tagle, Archbishop of Manila, who has just been appointed Cardinal Prefect of the Sacred Congregation for the Evangelization of Peoples.
Opening of New Community in Crotone, Italy
A new community was opened last December 6, 2019 in the Diocese of Crotone, Southern part of Italy. The new community is composed of three sisters from Vietnam, from the Provinces of Danang, Saigon and Hanoi.
Sr. Veronica Yong gave a Conference on "Christe Redemptor Omnium"
Sr. Veronica Yong, SPC from Seoul Province, gave a two-day Advent Conference on "Christe Redemptor Omnium." This was followed by a short-concert at the Chapter Room. Sr. Veronica played the violin and Sr. Helena Nam from Daegu Province played the keyboard synthesizer.
Pope Francis' Visit In Thailand
When Pope Francis visited Thailand, two of his stop-overs were in St. Louis Hospital and Assumption Convent in Bangkok. These institutions are managed by the Sisters of St. Paul of Chartres in Thailand.
Let us Pray for the Victims of Natural Disasters
Mother General asked everyone to offer special prayers for the victims of natural disasters that happened in the volcanic eruption in the Philippines and the bush fire in Australia.