Our Lady of Chartres Convent Factory Line Assembly of Face Shields

Our Lady of Chartres Convent, Philippine Province
Makes Factory Line Assembly of Face Shields
Click Here
Rue des Lisses Community, Chartres, France
made dandelion syrup/tea and protective washable masks and caps
Click Here
SPC Switzerland

"Looking to the future, hoping, singing Easter
in the middle of the night..."
Click Here
Jubilee Celebration at the Generalate
On the Feast of St. Peter and St. Paul, Sister Marie DANG Thi Le Thuy and Sr. Marthe Rose NGUYEN Thi Hong Hoa had a simple silver and golden jubilee celebration respectively at the chapel in the Generalate. Sr. Marie Thuy is a missionary from Saigon assigned in our new community in Crotone while Sr. Marthe Rose from Danang is assigned at Torpignatarra.
SPC Congo: Reception Ceremony
On the evening of June 29, Feast of the Sts. Peter and Paul, SPC Congo held a Reception Ceremony of the 2 new novices as well as the reception of the crucifix of the Postulant. At present there are 2 second year novices, 2 new first year novices and one postulant. SPC Congo accepts aspirants only every 2 years so as to be able to give an intensive focused formation for the group of novices and postulants in formation.
Archdiocese of Daegu, Koinonia: Pope Francis' "Program on The Life of Faith"
The office for the young people of the Archdiocese of Daegu, organized a faith program activity for the children to make their life meaningful even if they just stay in their respective homes. This is the "Program of the Life of Faith" inspired by Pope Francis during his message to the young people for the XXXV World Youth Day 2020 which aims to foster their daily faith.
Mother Goretti's Letter
An invitation to a worldwide solidarity and prayer
Sr. Jo Kyu-hee, Silver Prize Awardee
Sr. Jo Kyu-hee from Seoul Province won the silver prize award during the 40th International Contemporary Art Exhibition.
SPC Formators from Australia and East Timor
Join the Formation Program organized by UISG.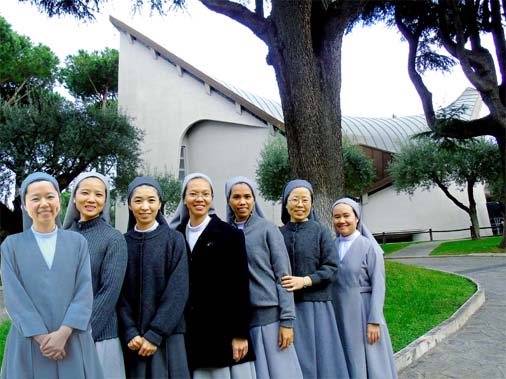 New Students in Rome
The new students who were sent by their Provincial Superiors to study in Rome this year are from Vietnam: Danang and Saigon; and from South Korea: Daegu and Seoul.
They are Sr. Angela Yee (Daegu), Sr. Elizabeth Yang and Sr. Martina Kim (Seoul), Sr. Therese Cuong (Saigon), Sr. Marie Tran (Saigon), Sr. Lucie (Saigon) and Sr. Therese Phuong (Saigon).
Sr. Marie Uyen Finished Her Studies In Angelicum
Sr. Marie Thi Minh Uyen NGUYEN from Saigon Province (Vietnam) successfully defended her Masteral Thesis in Biblical Theology on her course, "The Paradox of the Cross in Pauline Letter" in Angelicum University.
Sr. Jean Cattin Shows a Simple Spleen Exercise
This very short video of Sr Jeanne Cattin from the Peru-Colombia district shows us a simple exercise in the left hand for at least 10 stimulations per day. This simple exercise or reflexology stimulates the spleen and prevents the body from absorbing germs, infections or any virus.
Renewal of Vows of Juniors in Rome
Sister Marie Huan of Hanoi, Vietnam and Sister Esperança of East Timor renewed their vows on February 2, 2020 at the Generalate Chapel. Very Rev. Charles Phukuta Khonde, CICM was the presider of the Holy Eucharistic celebration.
A 2nd SPC School was opened at UAE
On September 16, 2015, St. Mary's Catholic High School, in Muhaisnah, Dubai was inaugurated. A Catholic school dedicated to the formation of the whole person - education in faith, academic excellence in a caring environment, and community service in charity. This is the first school on the frontier run by our sisters of the Philippine Province. On January 28, 2020, a second school, another branch of St. Mary's High School was opened at Ras Al Khaimah (one of the seven emirates of the UAE).
Sr. Maria Anunciata Sta. Ana, Recipient of National Artist Award
Sister Maria Anunciata Sta. Ana, Dean of the College of Music and the Performing Arts of St. Paul University in Manila, was awarded Patron of the Arts 2019 on December 12, 2019 by Cardinal Chito Tagle, Archbishop of Manila, who has just been appointed Cardinal Prefect of the Sacred Congregation for the Evangelization of Peoples.
Opening of New Community in Crotone, Italy
A new community was opened last December 6, 2019 in the Diocese of Crotone, Southern part of Italy. The new community is composed of three sisters from Vietnam, from the Provinces of Danang, Saigon and Hanoi.
Sr. Veronica Yong gave a Conference on "Christe Redemptor Omnium"
Sr. Veronica Yong, SPC from Seoul Province, gave a two-day Advent Conference on "Christe Redemptor Omnium." This was followed by a short-concert at the Chapter Room. Sr. Veronica played the violin and Sr. Helena Nam from Daegu Province played the keyboard synthesizer.
Pope Francis' Visit In Thailand
When Pope Francis visited Thailand, two of his stop-overs were in St. Louis Hospital and Assumption Convent in Bangkok. These institutions are managed by the Sisters of St. Paul of Chartres in Thailand.
Let us Pray for the Victims of Natural Disasters
Mother General asked everyone to offer special prayers for the victims of natural disasters that happened in the volcanic eruption in the Philippines and the bush fire in Australia.